Overview
The Jet Data Manager supports the input of multiple display languages. These display languages can be used by front-end tools to display captions in the user's language. In order for these display languages to be used they must be entered into the project. This article details the process of entering these translations and then exporting the translations for integration into our master project on the CubeStore.
Process
1. Download the desired project from the cube store.
2. Navigate to the Cubes tab, right click the OLAP database, Advanced , and click Translations .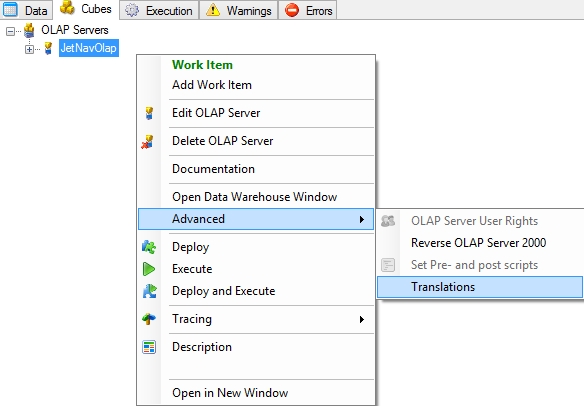 3.  Find the column that corresponds to the language you want to translate. If the language is not found click Add Translation .

4. If adding a new translation, enter the translation name and select the appropriate language from the drop-down menu. Click OK .

5. Locate the column you wish to translate. Every row that has a Caption needs to have a corresponding translation. For example: Finance, Currency Exchange Rate and Exchange Rate need to be translated.

6. Once all the translations are entered right click the language name in the column header and click Export .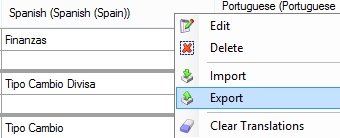 7. Assign a meaningful file name to the XML document and click Save .

8. Place the XML document in a zip file and email to enterprise@jetreports.com
9. Once received these translations will be integrated into the project located on the CubeStore.