Symptoms
When a user is trying to access the OLAP cubes in Excel by using Jet Reports, the following error occurs:
An unexpected error has occurred: Could not load file or assembly 'Microsoft.AnalysisServices.AdomdClient, Version=9.0.242.0...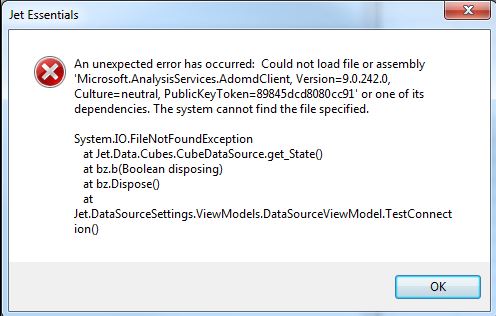 This is caused by the ADOMD.NET client not being installed. This is normally installed automatically during the installation of the Jet Excel add-in but, if this error comes up, the installation was blocked and it must be installed manually.
Resolution
Download and install the correct version of the ADOMD.NET client from the Microsoft Download link below on the client machine.
Feature Pack for Microsoft SQL Server 2005
The SQL 2005 version of the ADOMD.NET client should be installed regardless of the version of SQL that is being used at the client's organization. The Jet Excel add-in will specifically look for this version.
The version of the ADOMD.NET client matching the client machine's operating system (32-bit or 64-bit) (not Microsoft Office version) should be downloaded and installed.