Using BC365 (Business Central SaaS) With Jet Analytics
Overview
The "Dynamics NAV Adapter" has been renamed to the "Dynamics Business Central (NAV) Adapter", and now supports connecting to either a direct SQL data source (as previously) or to a BC365 (Business Central SaaS) instance. Note that support for BC365 begins with Business Central 2020 Release Wave 1.
Configuring a connection between Jet Analytics and your Business Central tenant is accomplished through two distinct steps:
Installing the Jet Analytics Extension into Business Central

Configuring Jet Analytics for use with Business Central
These instructions also cover:
Converting Existing NAV Connections

Known Limitations
Installing the Jet Analytics Extension into Business Central
NOTE: These instructions are for installing into Business Central SaaS. The extension can also be installed into Business Central on-premise instances (2020 Release Wave 1 or later) by following these instructions from Microsoft: https://docs.microsoft.com/en-us/dynamics365/business-central/dev-itpro/developer/devenv-how-publish-and-install-an-extension-v2
Navigate t

o the Extension Management Administration panel.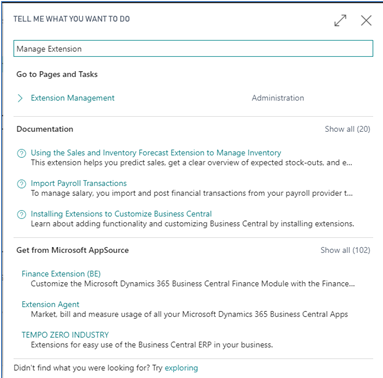 2. Click on Manage and Upload Extension.

3. Navigate to the installation files for Jet Analytics and select the Jet Analytics Extension .app file. Toggle on the Accept Disclaimer toggle button. Click Deploy.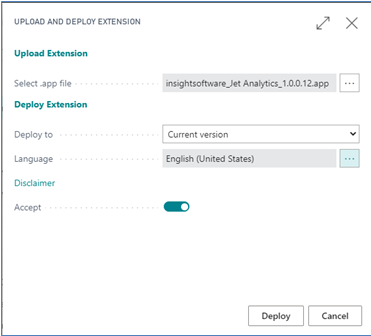 4. Check Deployment Status by clicking on Deployment Status in the Extension Management toolbar. Wait until the Status is Completed (may take several minutes).

5. If deploying to a Sandbox environment, an extra configuration step is required to allow the Jet Analytics extension to send diagnostic information. Skip to step 6 if not using a Sandbox environment.
In the Extension Management screen, click the menu beside the Jet Analytics extension

,

select Configure

and toggle on

"Allow

HttpClient

Requests":

6. Navigate to Users and generate your Web Service Access Key. You will need this in a subsequent step to use with the JDM.

Configuring Jet Analytics for use with Business Central
NOTE: These instructions are for creating a new Business Central connection. If you have an existing project using the previous version of the Dynamics NAV Adapter, you can open that project and convert the connection over to BC365 (Business Central SaaS) – described in the next section.
1. Select the "Dynamics Business Central (NAV) Adapter". Note that this is the same adapter previously used for direct SQL Server connections (and still supports such connections).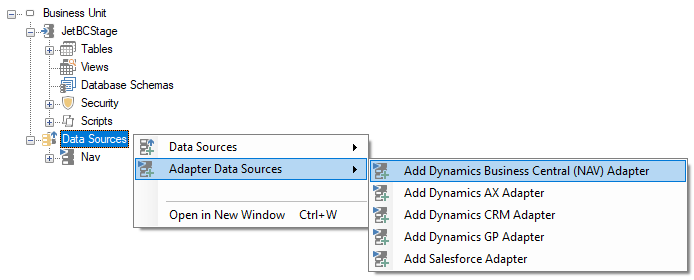 2. Choose "Wizard Setup" and select "BC 365".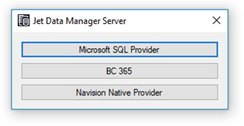 3. After giving your connection a name, you will need to fill in the main connection screen. Input the API URL, Environment name, Authentication type, Username & Password and Command Timeout fields.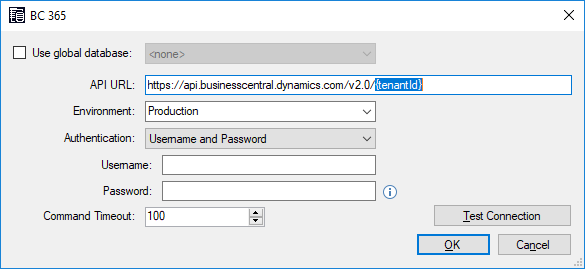 API URL: This URL is pre-populated with the standard BC365 (Business Central SaaS) URL, but you will need to supply your tenant ID. This can be found in Business Central by going to the ? button on the top right corner and clicking on "Help and Support" – the ID is labeled "Azure AD tenant" and is a 36 character identifier with 4 dashes. You can also find this embedded in the URL you use to access Business Central.
Environment: This drop down lets you select between Production or Sandbox (2 common environment names), but also lets you type a different environment name (as you may have named your differently). The Environment name is also shown in "Help and Support". NOTE: If connecting to an on-premise instance of Business Central, you must leave this field blank.
Authentication: For BC365, only "Username and Password" authentication is supported. On-premise connections can optionally use Integrated Windows Authentication (current Windows user's authentication is used) or Windows Authentication (you must supply a domain\user and password).
Username: This is your username (or domain\username if Windows Authentication selected).
Password: When using BC365, please provide the Web Services Access Key generated in the section above.
Command Timeout: leave this as the default (100)
4. Test the connection and then proceed with configuring your project exactly as you would have done with the previous NAV Adapter (set up accounts, read objects, etc.).
Converting Existing NAV Connections
NOTE: These instructions apply if you have an existing project that uses the NAV Adapter data source, and you wish to re-point it to a BC365 instance. If you are using the CDATA connector in your project, these instructions do not apply – you will need to create a new connection (per the previous section) and re-create your project.
Open existing project

,

right click on your (NAV) connection and select "Change to BC 365 Provider".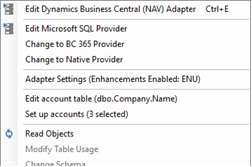 2. Fill out the BC365 connection information as described in the previous section.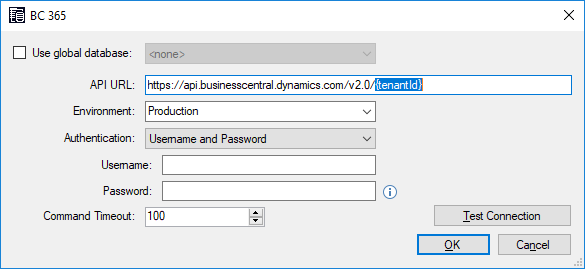 3. Synchronize objects. Note the following differences may be detected:
The

sqltimestamp

field is not available (if this field was used in your project to configure incremental data loads, you will need to identify a different column such as Last Modified Date to use instead)
Flow fields are now available (previously they did not show up in the NAV adapter because these fields

are not

present in the SQL Server database – but the BC365 connector can now provide them)
Known Limitations
The sqltimestamp field is not available when using the BC365 provider, as we do not have access to the underlying SQL Server table directly and Microsoft has not yet provided a method for accessing this field.
Data selections rules currently support only a single rule per table (though multiple field expressions for that rule are supported).
The table information feature currently only shows the language of the current user, translations have not been provided.