Technical Overview
Dynamics NAV and Dynamics 365 can utilize Microsoft's Azure -  a secure cloud service that integrates operating systems with applications.  By adding Jet Reports to your organization's NAV environment, you get the all the abilities of NAV/365 and all the reporting power of Jet Reports products.
When a new application is added to an organization's NAV environment, it is typically necessary for the Administrator of the Azure Active Directory Tenant to approve the application before it can be used.  This process of approving an application for the entire organization is referred to as "Administrator Consent".
By clicking the link to allow access, the admin of the Azure Active Directory Tenant can provide the necessary administrator consent  and allow the Azure system to use Jet Reports products to work with your data - while maintaining all the security you have already set up within your system.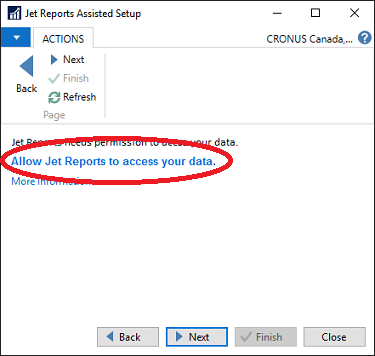 Technical Resources
There are a great many online technical resources for learning more about Azure, Active Directory, and Administrator Consent.  Here are a few such resources if you are interested in learning more.
https://azure.microsoft.com/en-us/documentation/articles/active-directory-integrating-applications/
https://blogs.msdn.microsoft.com/exchangedev/2014/06/05/managing-user-consent-for-applications-using-office-365-apis/
http://blah.winsmarts.com/2015-1-Azure_AD_and_Office_365_APIs_-and-ndash;_User_Consent_vs_Admin_Consent.aspx