Overview
Jet Basics is a Microsoft Excel add-in for use with Microsoft Dynamics NAV and Dynamics GP, which gives users a simple way to create financial reports inside Excel.
In Jet Basics, you can use the Jet GL function within your reports.
If you attempt to run a report that has any other type of Jet function [such as NL("Rows"), NL("First"), NL("Table"), etc.] an error will be displayed to let you know that the particular function being used is not available in Jet Basics (or, for older versions, "Jet Express")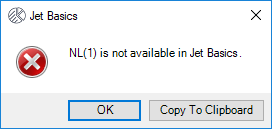 ---
Resolution Process
Reports created with the full edition of the Jet Excel add-in may require that they be run using the full edition of Jet Reports.
Any report that is to be run using Jet Basics must only contain those functions available within Jet Basics.
---