Overview
When attempting to synchronize the data source or Deploy a table in the project, the following error message is displayed: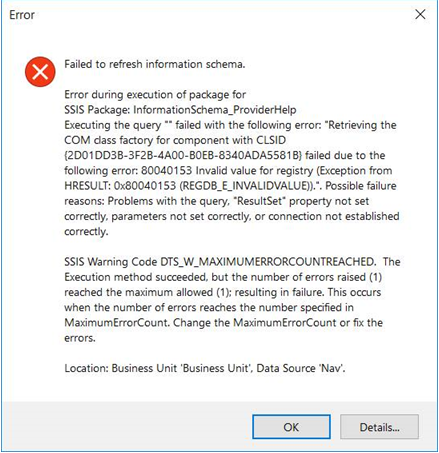 Complete text of error message is:
Failed to refresh information schema.

Error during execution of for SSIS Package; InformationSchema_providerHeIp Executing the query "" failed with the following error: "Retrieving the COM class factory for component with CLSD failed due to the following error: 80040153 Invalid value for (Exception from HRESULT: 0x80040153 (REGDB_E_INVALUDEVALUE)).". Possible failure reasons: Problems with the query, "ResultSet" property not set correctly, parameters not set correctly, or connection not established correctly.
SSIS warning Code DTS_W_MAXIMUMERRORCOUNTREACHED. The Execution method succeeded, but the number of errors raised (1) reached the maximum allowed resulting in failure. This occurs when the number of errors reaches the number specified in MaximumErrorCount. Change the MaximumErrorCount or fix the errors.
Location: Business unit 'Business unit', Data Source 'Nav' .
Cause:
For more information on this error please see this information from Microsoft.
Resolution