Overview
When attempting to perform an automatic update of Jet Reports, the following message is displayed: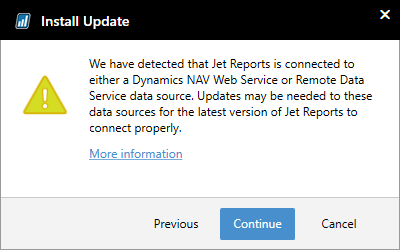 Complete text from message:
We have detected that Jet Reports is connected to either a Dynamics NAV Web Service or Remote Data Service Data Source.  Updates may be needed to these data sources for the latest version of Jet Reports to connect properly.
Cause:
Before updating an installation of Jet Reports, it may be necessary to first update other components when Jet Reports can connect to one of the following:
Dynamics NAV Web Service data source
Business Central (on-premises) data source
Jet Remote Data Service data source
These types of data source connections require that components be installed on the database server.  These components may need to be updated before you would be able to connect to them with a newer version of Jet Reports.
Resolution
Please contact your database administrator or Jet Global Technical Support to verify if the version of Jet Reports you are trying to install is compatible with database components you currently have installed.
Database administrators
Please refer to the following articles for additional information: